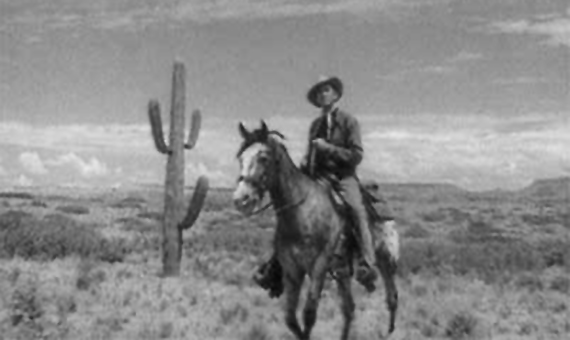 It happens more often that a consultation starts like this: "I would like to have a Western cactus, as in the Western". Sometimes the customer even has the matching James Stewart photo with him.
That can't upset our employees: "Gladly - have you thought of such a thing?"
A few years ago we imported a giant copy from the USA: The four metre high cactus was intended for a large conservatory and was supposed to provide a touch of Texas.
Euphorbia ingens is very suitable. The plant likes to stay warm all year round and is very easy to care for. Both in the online shop and directly in the nursery you will always find a suitable copy.
Euphorbia are very beautiful plants, but botanically not cacti. If you want a "real" cactus, we recommend Stetsonia coryne, for example, the so-called "hands up cactus", which develops its characteristic shape over the years.
Alternatively, look for Myrtillocactus or Polaskia, which have a similar growth form. Especially beautifully branched plants always find buyers very quickly in the nursery, so that they are unfortunately not always available.
However, these plants are not suitable for the living room. All cacti like it dry and a little cooler in winter - a location in the bedroom or another room with about 12-15°C would be appropriate.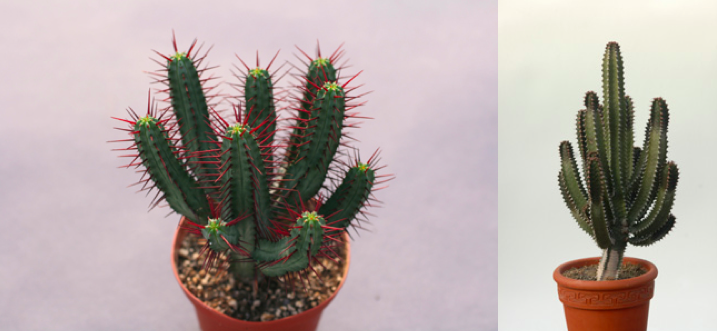 Too big? We also have very pretty smaller "hands up" cacti:
The small Euphorbia enopla (left) already branches at a size of 10 cm, Euphorbia canariensis (right, not always in the assortment) needs a little longer.
Back to the real cacti: an alternative that is closely related: Pachycereus - grows much faster and gets arms earlier.
If you want the original from the picture at the top, that's no problem either. Cacti of the genus Carnegiea Carnegiea can always be found in our online shop and in our greenhouses. However, you should be patient until the right western atmosphere prevails. Carnegiea grows very slowly and requires a lot of patience. The plants we offer are usually five to six years old, but hardly more than 10 cm. Carnegiea gigantea is the heraldic plant of the state of Arizona and as common in the front gardens as geraniums or yucca palms.

If you really want the big plant under which a cowboy could ride comfortably, wior will organize that too. These giants are well over 100 years old and only available directly from their natural surroundings in Texas, New Mexico and Arizona. They are guarded by rangers, and it takes an elaborate and lengthy approval procedure to obtain a license to extract such a cactus.
We have organised all this for our customer. When the container arrived in Hamburg, there was a surprise; the plant was twenty centimetres too high.
So our customer had to reconstruct his winter garden just once again...
The cost? Depending on the size, you can expect around 10,000 to 100,000 euros - without a new conservatory, without a horse and without James Stewart.
If your wish remains in handy dimensions, Euphorbia ingens (alternatively often also Stetsonia or Polaskia) with arms we usually have between 50 and 80 cm height available (price from 49 to approx. 179 Euro).
All plants up to a total height of 120 cm (packaging size) are considered handy because they can easily be sent by parcel post. Plants that are larger must be transported by a forwarding agent, the costs generally start at around 100 euros and depend on volume and transport distance. We will inform you accordingly in advance.
And you see - everything not so difficult to get even a small or large cactus home.