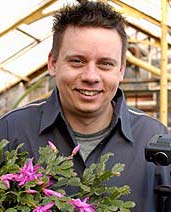 Also Ulrich Haage is a trained gardener. Like many of his ancestors, he has expanded his knowledge in leading collections around the world.
He worked, at the Royal Botanic Gardens, Kew, London; the Städtische Sukkulentensammlung Zurich. Further nurseries on the Canary Islands, in Belgium, Guatemala, as well as in Germany are important stations on his horticultural Grand Tour

He ends his studies with a degree in horticulture / marketing.

Ulrich Haage is the first of the Haage-Family who travels to America. Together with his sister Amrey, he may admire at the plant diversity of the "New World" in 1998.
Amrey haage takes over the management of the propagation department when Hans-Friedrich Haage retires.
Cactusdiner, online marketing and founding of the cactus publishing house
In 1996 Kakteen Haage celebrates its 175th anniversary and Ulrich Haage takes over the management from his father.
One of Ulrich Haage's creative ideas is the cactus-diner. Since the first event on the occasion of the anniversary in 1997, more than 5000 guests have experienced this special event. On warm summer evenings, enjoy the delicious 5-course menu made from cactus in the greenhouse.

Of course, also the plant range has been expanded. The printed catalogue is again sent all over the world twice a year. However, most orders are now processed digitally via the online shop.

In 2005 HAAGE-Kakteen-Verlag starts its work. Already the first book, the new edition of the bestseller "Winterharte Kakteen" by Kümmel / Klügling, is very successfully.

Further publications are:

Kakteen zum Anbeißen - Das kleine Kakteenkochbuch - a collection of recipes from the cactus countries - Kakteen-Haage - Erfurt 1997 (sold out)
KaktusKochbuch - The cactus Cooking Book for cactus owners - cactus recipes for the spoiled palate - co-production with cactus chef Ulrich Manck and cactus artist Birgit Winter - Burkhard-Verlag - Erfurt 2006
Winterharte Kakteen revised edition of the compendium in Haage Kakteen Verlag - Erfurt 2005 and 2008
Kakteen von A bis Z supplemented reprint of the bestselling cactus lexicon in German - Anaconda Verlag, Köln 2008
In the future, too, the Haage family will follow the advice that the ancestor, Friedrich Adolph Haage, received almost 200 years ago:
"Haage, stay true to the cacti!"